Prinz Islay meets HPD
The love of Scotch whisky also made Udo Prinz - alias Prinz Islay - love the Scottish music. Especially the distilleries of the island of "Islay" in western Scotland caught his heart, hence his stage name "Prinz Islay".
For more than 12 years - at countless whisky tastings, festivals and other celebrations - Prinz Islay has been playing his favourite songs from the Hebrides and he always brought his own songs too, like for example his song "Scotland my dear" which reflects the longing for this extraordinary country.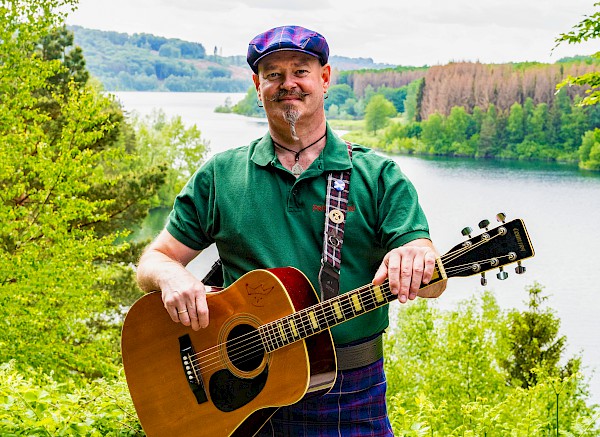 Equipped with a powerful voice, accompanied by guitar and wearing a traditional kilt Prinz Islay evokes the vast landscape of the islands, the lightness of the waves of the sea and the serenity of the islanders in the minds of his listeners.  
Even the Gaelic accent, which is notoriously difficult to interpret, is always sung with pleasure by Prinz Islay as well as or "Twa recruiting sergeants" or of course the unofficial anthem of the island of Islay - "Westering home".
But also completely Gaelic songs - which are called "Port à Beul" and are traditionally sung a capella – can be heard when Prinz Islay is on stage.